Reading Time:
3
minutes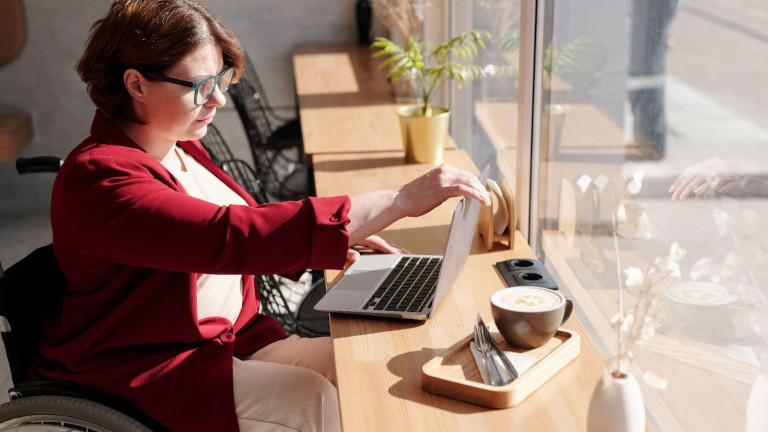 If you'd love to write for a living, your disability shouldn't prevent you from pursuing a career as a writing entrepreneur. In fact, writers and authors with disabilities can hugely benefit from entrepreneurship — as this type of lifestyle allows you to work from home, set your own schedule, and design a working environment that accommodates you and your specific needs.
Find the Right Fit
Business ownership is hard work, but it's an excellent option for writers and authors with physical, visual, auditory, or cognitive disabilities. When you start a business as a writer or author, you can work at your own pace and pursue a career as a novelist, freelance blogger, newsletter writer, or copywriter — or even work as a writing tutor, grant writer, social media manager, or proofreader. The important thing is that you choose a business idea that fits your writing skills and interests.
Calculate Startup Costs
The cost of pursuing entrepreneurship as a writer or author tends to vary, but writing startups are usually much cheaper than other types of businesses — especially if you plan on working from home. Some common startup expenses for writing entrepreneurs include the following:
A computer, printer, and word processor
A desk and chair
Assistive technology tools
Internet
Business formation costs (when forming an LLC or corporation, ZenBusiness explains how to register a company name as part of the process)
Marketing and advertising costs (e.g. website and logo design, business cards, and web hosting)
Utilize Disability Entrepreneurship Resources
Whether you need help writing a business plan, applying for funding, or obtaining a Disability-Owned Business Enterprise (DOBE) certification, plenty of resources are available to assist aspiring entrepreneurs with disabilities. AABRS shares a list of resources for entrepreneurs in the United States, Canada, Australia, and the United Kingdom.
Set Up an Accessible Office Space
Professional writers and authors spend much of their days sitting behind a desk, and it's important to create an accessible home office space that works for you. Freshhome offers some tips for designing a productive workspace, finding the right technical tools and equipment, and applying for grants that can be used to modify your home office for accessibility.
Design Your Business Website
Now that you've chosen the right business idea, calculated your startup costs, explored the resources that are available to you, and set up your home office space, it's time to build your business website with help from a web development professional. Web developers create professional websites using easily maintainable platforms such as Joomla, Drupal, Wix, or WordPress.
Look for Work as a Professional Writer
Once your new website is up and running and you've got a great office space to work in, you can officially start looking for clients. Lisa Rowan of The Write Life shares some tips to get you started, but don't underestimate the power of using job boards and social media as well. Several great job boards for freelance writers include Upwork, ProBlogger, and BloggingPro.
Manage Your Home-Based Writing Business
Entrepreneurship is an empowering opportunity for writers and authors with disabilities, as it allows individuals to pursue their career goals while working at their own pace and from an accessible work environment. And while managing any type of business takes some getting used to, it's all part of the entrepreneurial journey!
A special thanks to Linda Chase with Able Hire for article content. Able Hire's mission is to help people with disabilities build rewarding, successful careers. For more information, visit: https://ablehire.org
Writing a book?
Try tooleybook, the free tool created for writing books. It takes less than 30 seconds to create an account and start writing.
With tooleybook you can view timelines, chapter purpose, word count, track time and place, tag scenes, move and organize scenes and more...More Info