Reading Time:
6
minutes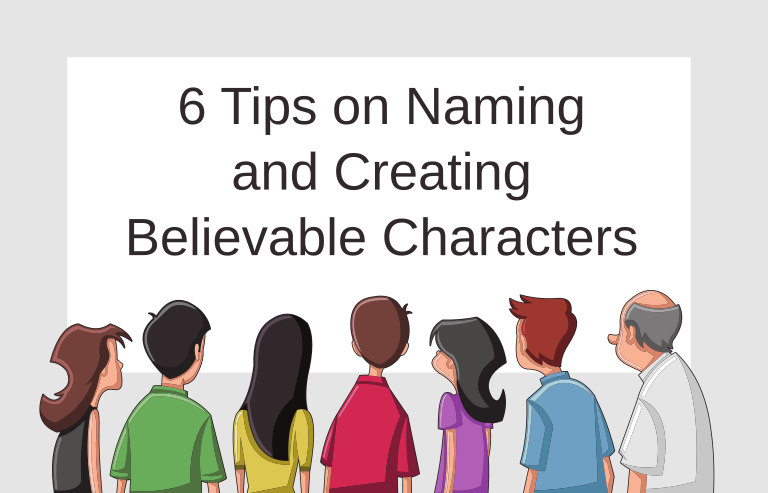 It's time. You've finally decided to write your novel. You've envisioned your story and you're ready to bring it to life. If you're at this stage in the writing process, it's important to consider your next steps. Every choice you make from this point on should be decided strategically and methodically. No pressure! At this point, you're ready to start naming and creating the characters that will bring your story to fruition. This article will present five tips for picking names and writing believable characters.
Make a List of Names and Qualities
Something to do if you've only scratched the surface is making a list of names and personality characteristics. If you're feeling a little low on the creative juices, there are many resources out there to help you start thinking about creative, believable characters. Baby naming sites or name generators are amazing online tools that could give you exactly the names you're looking for or help spark your creativity. Some even include made-up personalities or lists of character qualities along with the name as an added bonus. All you need from here is that wonderful storyteller inside you to make it happen.
If you're a little skeptical about finding your beloved names on the internet, don't fret. You may be able to think up some interesting names that strike your fancy on your own. Think about people you know or books you've read before. When you're reading or out and about and you see or hear a cool name, jot it down. Believe it or not, this strategy works for creating character qualities too. Picture the people you know or characters that really stuck with you. What qualities do they have and how do they work together? Then, when you get home, put fingers to keyboard or pen to paper and make it believable.
Research Your Names
When you're creating your characters and naming them, conduct a little bit of research to learn the meanings and origins behind their names. Even if your readers might not take it upon themselves to look up your characters' names, there is still value in knowing this information. Your publisher might want to know that your names won't raise any concerns or they might genuinely think your story would be better with meaningful names.
A lot goes into a name and a lot can be inferred from a name. Names tell stories themselves. If one of your characters is from Brazil, for instance, make sure you choose a realistic Brazilian name. If your character is a strong-willed leader, give them a powerful name like Leroy, which famously means "the leader". Don't just think of your character as another name. Give them a moniker that captures the essence of their personality and history, and adds another level of depth to their story—and yours.
Create Characters and Names that Go with Your Genre
As you're thinking about your characters and their names, add in another filter through which to look: the genre and setting. Is your novel set in a fantasy world of your own creation? Is your novel a realistic fiction drama set in a modern high school? Does the plot involve futuristic, sci-fi themes? You wouldn't name a seventeen-year-old girl living in modern day Alabama Elliptica. It just doesn't make any sense, no matter how much you might like the name.
After choosing the perfect names for your genre and setting, consider the characteristics that go with these names, the genre, and the setting. Give your character's personalities that you imagine they would have in the story you're writing. In her novel The Giver, Lois Lowry intentionally creates characters who show an undying faith toward their government and way of life. You would never see this type of unquestioning loyalty of their government from characters who live in modern America, but it fits perfectly for a dystopian novel.
Think About the Need for Characters
Do a thorough audit of your characters. Don't sprinkle in extra characters just because you really wanted to have seven main characters, or you really liked a certain name. Every character should add something to your story to make it more authentic, more fluid, and more believable. That being said, sometimes it is necessary to add in small references and cameos, or even a multitude of characters. Start by thinking about what your specific story needs.
Some ways to include character cameos might be simply by having one of your main characters reference their name in a situation. J.K. Rowling's characters constantly reference people we never actually meet throughout the Harry Potter series. We only hear from others about Dedalus Diggle or Florean Fortescue. These characters are not integral to the plot, but their names and backgrounds shed light on the world J.K. Rowling has created, giving us a more authentic and vivid picture of it. So, if you're writing a fantasy novel, this might be something you could consider writing in to your story.
If you're writing a realistic fiction novel set in a high school, think about all the people your main characters know or have interacted with outside of each other. Think about our real lives: we interact with so many people in our lives and hear stories from other people about the people in their lives every day. Those little characters you don't think much about that only show up for a page or two could be the icing on the cake that makes your story more believable to readers.
Design Well-Rounded Characters
It can be easy to fall into the tangled web of clichés when writing a novel. Especially if you're familiar with the books and films that do this. Storytellers have been doing this since the beginning of fiction, and you don't want to be another in the long line of people who have created two-dimensional characters. To steer clear of this, think about the people you know in real life. It's probably unlikely you know people who perfectly embody a certain stereotype and never stray from it. Pick one person you know and list out every aspect of their personality from your point of view. Then ask someone else their opinion of that person and try to see that person's personality from their point of view.
Now, put this to work with your characters. How do your characters work with another? Maybe you were ready to label one of your characters a stoner because that's how his girlfriend sees him. But maybe his algebra teacher knows he's really good at math and he wants to join the mathletes team. Maybe your characters embody many different stereotypes, or maybe they change throughout the story.Adding depth to your characters instead of sticking them to one cliché or stereotype will make them more relatable as real people to your readers.
Develop Your Characters
Realizing the initial names and personalities of your characters is important, but what follows is perhaps the most important part of the development of your novel: designing a path for your characters. The story you're writing is shaped by the characters involved, but the story also shapes those characters themselves. We as living beings are always changing, so whether your characters are humans, animals, or aliens, they'll be in a constant state of change. Make their journey flow with the story, and make it believable. In doing this, some things you might choose to think about are your character's background or their histories with other characters.
If you've decided your character will become an evil lunatic after witnessing a loved one die, build up to it. Include little moments in their interactions with others that hint that there is a darkness already inside them. Darth Vader didn't just turn to the dark side on a whim; his whole life was leading up to that moment. In Jay Asher's 13 Reasons Why, the main character doesn't commit suicide for no reason. In fact, she lists out every single reason "why" she did it, and we get a peek into her mind and emotions leading up to it. Plan your characters' journeys and how they will (believably) get there.
Rethink It
After you've done all the researching, imagining, planning, and outlining, you might think you're ready to write those believable characters into existence. Don't be too hasty. Before you ever write the first word, rethink all your choices. Look at your outline, your character descriptions, your researched notes, everything. Ask these important questions: Do your names make sense? Are your characters who you thought they would be? Do the actions and qualities of your character go with what you pictured for a character of that name?
Don't just ask these questions before writing, either. Ask them throughout the writing process. If you need to tweak things here and there, add in little snippets that showcase a character's personality more, or even change a character's whole name, do it. If it makes your story more authentic and your characters more believable, by all means, do it.
Writing a book?
Try tooleybook, the free tool created for writing books. It takes less than 30 seconds to create an account and start writing.
With tooleybook you can view timelines, chapter purpose, word count, track time and place, tag scenes, move and organize scenes and more...More Info